Displaced inside Syria: UNHCR and its Dedicated Staff help the Needy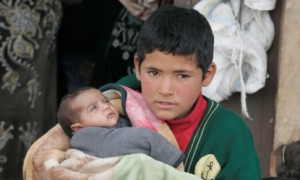 The violence inside Syria continues to drive people from their homes, with some seeking shelter elsewhere in their country and others risking the crossing into neighbouring countries. The United Nations estimates that up to 4 million people are in need of help, including some 2 million believed to be internally displaced.
The UN refugee agency has 350 staff working inside Syria. Despite the insecurity, they continue to distribute vital assistance in the cities of Damascus, Aleppo, Al Hassakeh and Homs. Thanks to their work and dedication, more than 350,000 people have received non-food items such as blankets, kitchen sets and mattresses. These are essential items for people who often flee their homes with no more than the clothes on their backs. Cash assistance has been given to more than 10,600 vulnerable Syrian families.